9 Days:
Vivid Sydney [ST-1003]
Highlights & Inclusions
Event Dates: May 24, 2019 - June 15, 2019
Accommodation - Sydney (7 Nights)
US Domestic Flights are not included (Check Quote for Inclusion)
International Flights - Los Angeles to Sydney (Return) (Check Quote for Inclusion)
Shuttle Transfers - Sydney Airport to Accommodation (Return)
All Day Tours listed are Optional (Not Included)
Visa Issuance for entry into Australia (additional US$15.00 per person)
F.I.T. (Free & Independent Travel, i.e. this is not an Organized Group Tour)
All Taxes and Fuel Levies (Except where noted)
Itinerary is flexible and can be tailored to suit your needs.
Trip Description:
9 Days / 7 Nights – Australia
Creative minds come together for a unique event of lights, music and ideas! This festival delivers innovative light displays and inspiring works of art on a grand scale. Immerse yourself in a landscape of creativity as Sydney is transformed into a world of fascination! Witness buildings transform into vibrant illuminations and view spectacular lighting sculptures and installations as you explore Vivid Sydney.
Itinerary Details
Day 1- International Flight, Los Angeles to Sydney (Check quote for inclusion)
Travel to Australia on your vacation. After departing from Los Angeles you will be provided with an evening meal. You can relax, have a drink, watch a movie, review your itinerary or just rest. You will be given Breakfast before landing in Sydney, Australia. (You lose one day crossing the International Date Line but don't worry you catch it up again on your return flight to the USA)
Please confirm with the airlines at Check-in that they have all your Frequent Flyer information on record.
Day 2 - Shuttle Transfer, Sydney Airport to Accommodation
Travel by shuttle transfer from the Airport to your vacation accommodation in Sydney, Australia.
Days 2 to 9 - 7 Nights Accommodation in Sydney
Travel to your accommodation in Sydney, Australia, where you will be staying whilst on vacation for 7 nights in your executive room apartment.
Just 30 minutes from Sydney Airport, your accommodation is conveniently located between Darling Harbour and the Sydney CBD.
The friendly staff at your accommodation can attend to your every need with 24 hour guest reception. Enjoy a scrumptious breakfast at their signature restaurant.
Relax in a stylish and comfortable haven whilst being in close proximity to shopping at Westfield's Pitt St Mall and Darling Harbour. Don't forget to take a stroll down Pitt St towards Circular Quay to take in more of Sydney's world famous sites- like the Sydney Opera House and Sydney Harbour Bridge.
Event: Vivid Sydney
Event Dates: May 25, 2018 – June 16, 2018
Creative minds come together for a unique event of lights, music and ideas! This festival delivers innovative light displays and inspiring works of art on a grand scale. Witness buildings transform into vibrant illuminations and view spectacular lighting sculptures and installations as you explore Vivid Sydney!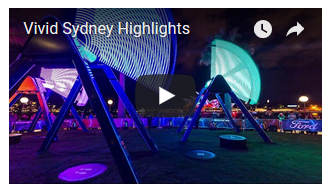 The creative people of the world are invited to this spectacular festival in the creative hub of Australia. Vivid Sydney not only offers an impressive array of lights, it also embraces musical creativity and innovative thinking!
Visual light displays and installations create a world of fascination as you enjoy a wide range of musical entertainment and attend intellectual talks about creativity and innovation. The festival also brings a large range of food options! Explore the different types of local cuisine available at the festival from gourmet selections to bite-size snacks on the go!
Here is a selection of Vivid Sydney Precincts:
Martin Place: Explore this exciting, new precinct! Last year, the precinct was the first area to be switched on at 5:30pm during the week. Crowd favorites were the giant 3-D head that allows spectators to take the ultimate selfie! View a night sky lit by petals of light with Sky Flower, and see the Urban Tree which transforms the MLC Centre Management Office into an amazing forest filled with life and beauty!
Sydney Opera House: Have the opportunity to dine under the beautifully illuminated sails projections at the Sydney Opera House and choose from a wide range of local cuisine including Bondi dining, fresh seafood, or even local food trucks!
The Star: Last year introduced a new precinct to the festival for the first time. The Star has created many packages across their dining, entertainment, and hotel venues to enhance the Vivid Sydney experience for their guests. The Vivid Lounge at the Sky Terrace gives you stunning views of the festival activities and attractions.
North Sydney: North Sydney centers around family-friendly fun! Families and visitors alike can enjoy many fun attractions including roving performers like human statues and jugglers and interactive light installations. Have the opportunity to personally select and customize the lighting effects on Sydney Harbour Bridge as well! Visitors who are looking for a place to eat in this area should look at The Deck at Luna Park Sydney. This local spot boasts spectacular views of the Sydney harbour – ideal for your Vivid Sydney experience. Ripples Milson's Point is a key spot to capture the essence of relaxed dining with an Italian inspired menu. Aqua Dining is an award-winning restaurant offering the freshest Australian produce.
The Rocks Market: The Rocks is located on the foreshore of the harbour placing it right in the heart of all the Vivid Sydney action! Follow the amazing Light Walk and view brilliant light installations. Also, have the opportunity to shop at The Rocks Vivid Night Markets.
Dawes Point: This precinct offers a wide variety of entertainment and stunning views of the Sydney harbour. Enjoy a range of different food options as you see amazing installations and projections.
The MCA: The home of The Vivid Ideas Exchange Lounge. Located on the 6th level of the MCA building, The Vivid Ideas Exchange Lounge hosts many Vivid Ideas sessions. Watch how creativity comes to life!
Road closures and special event clearways will be in place in the Sydney Central Business District, The Rocks and Walsh Bay during the festival. There will be plenty of extra public transport services available during the festival as well.
For more information on road closures and public transportation please click here. Photo Credit: Daniel Boud, Vivid Sydney
Days 3 to 8 - Free Days to Explore Sydney
With Sydney at your fingertips, take the chance to explore the Darling Harbour area at your leisure, which is a modern collection of Shopping Malls, Parkland, Restaurants and Harbour Front activities.
Walk to Circular Quay and catch a ferry to our wonderful harbour-side Taronga Park Zoo, or take the 30 minute ferry ride to Manly Beach, Sydney's premier beach resort. Here you can enjoy the laid back beach culture as well as many festivals and events. If you prefer to stay closer to downtown Sydney, Bondi Beach is approximately a 10 minute train ride and is one of Australia's most famous and iconic beaches. Save some time to take a beach walk from Bondi Beach to Bronte Beach, it's known to be a true highlight. If visiting on a weekend then go to the Rocks Market and shop for local Arts, Crafts & unique Australian Souvenirs.
Optional Night Tour (Not Included) - Sydney Harbour Vivid Bridgeclimb
On your vacation climb the famous Harbour Bridge in Sydney, Australia during the Vivid Sydney Festival.
Achieve exhilaration and personal satisfaction as you climb the Sydney Harbour Bridge. For approximately two hours you, along with 11 other eager climbers and a climb guide, weave through catwalks, climb up ladders and then arrive at the most spectacular point of all – the upper arch climb. The steady incline to the upper arch leaves you free to focus your attention on your Sydney experience, with opportunities for 360 degree views of Sydney, including east to the ocean, west to the mountains and the harbour city surrounds. It is at this point that you not only have a bird's eye view of the beautiful Sydney Harbour and the city, but have the exhilaration of the truly rewarding experience of reaching the top to the Harbour Bridge in Sydney, Australia. When you reach the top you will have a sense of achievement that you'll remember forever – you've conquered an Australian icon recognised the world over! No other Sydney tourist attraction can give you this feeling of standing at the top of the world, with the Harbour spread before you.
During Vivid, every climber will ascend to the top of the Bridge wearing a Vivid Vest. At the summit, every climber will have the opportunity to participate in "being the heartbeat of the Sydney Harbour Bridge". As each climber touches a pulse oximeter on the sundeck – a light display will illuminate based on the frequency of their pulse.
All climbers will be issued a Climber Cerfificate along with a complimentary Climber Cap and photograph of their climb group.
Optional Tour (Not Included) - Sydney Harbour Cruise, Taronga Zoo & Sky Safari
On your vacation explore Darling Harbour in Sydney, Australia with this unlimited full day pass see all the main harbour sights with commentary plus entry to the Taronga Zoo and Sky Safari cable car


Hop On and Hop Off at up to seven famous harbour attractions with this unlimited full day pass, or simply take the 1 1/2 hour round trip cruise and see all the main harbour sights with commentary.
Discover Australia's amazing wildlife including koalas, platypus and kangaroos with entry to the Taronga Zoo and the Sky Safari cable car

The 2-Day Sydney Harbour Explorer pass including entry to Taronga Zoo. Hop on hop off rocket ferry pass including reboarding at Circular Quay (The Rocks & Opera House), Taronga Zoo, Darling Harbour, ICC Sydney, Barangaroo, Watsons Bay, Luna Park, Manly, Fort Denison & Shark Island plus Zoo entry including Sky Safari cable car.
Operates: Daily
 
Need to Know: Attraction entry ticket valid for one single day (within 7 days of cruise)
Inclusions: 2 day hop on hop off ferry pass; Taronga Zoo entry & Sky Safari cable car; Sky Safari cable car operates subject to weather and operational conditions
Optional Day Tour (Not Included) - Rocks Aboriginal Dreaming Tour
Be touched by the most ancient human culture on earth on a 90-minute leisurely walkabout with an Aboriginal guide in The Rocks, and Journey into Dreamtime, the culture of Aboriginal People.
The Rocks Dreaming Aboriginal Heritage Tour is 100% Aboriginal owned and was developed by Aboriginal Elder, Margret Campbell, a Dunghutti-Jerrinjah woman. It is led by Aboriginal guides who have Margret's permission to share her cultural knowledge and interpretation of Sydney's Dreamtime Symbology – all within Sydney's natural billion year old saltwater harbor and marine environment, sandstone strata, fresh waterways, flora and fauna that continue to influence Aboriginal people's thinking and lifestyle today in cosmopolitan Sydney.
The tour content is grounded in Aboriginal Culture with Aboriginal guides who are experts in culture, horticulture and storytelling. The journey will begin with a traditional OCHRE acknowledgement of Earth Mother's EORA Cadigal heritage. This is further showcased in an interactive leisurely 'walking on county experience' that will connect you to the living wisdoms inherent in Sydney's natural waterways, skies, and landscape.
This 90 minute walkabout tour in The Rocks is a perfect introduction of Aboriginal Culture. It highlights the perspective of Sydney's Dreamtime heritage that is intimate, enlightening and very informative.
Operates
Daily, on request. Does not operate on Christmas Day (December 25), Good Friday, and January 26.
Need to Know
– Tour departs at Cadman's Cottage courtyard area (110 George Street, The Rocks).
– The tour is an all-nature activity.
– Please wear comfortable walking shoes, sunscreen and a hat, and bring a bottle of water.
Times
Departs at 10:30am and returns 12:00pm, lasting approximately 1.5 hours (90 minutes).
Inclusions
– Local Aboriginal basic ceremonial greeting (good manners) that connect to Dreamtime Custodian Characters who Belong to Sydney Harbour's saltwater sunrise and freshwater environment.
– Knowledgeable Aboriginal guides.
– Discover Aboriginals' acknowledgement of "country" using Earth Mother's traditional ochre paint.
– Discover everyday resources/equipment manufactured from natural environment – its origin source of cultural objects and materials harvested from landscape and handle small samples.
– Learn about the story of Aboriginal DreamTime, it's origin, history and how culture evolved.
– Understanding the connection of modern Sydney and the Aboriginal Dreaming in The Rocks Sydney.
Optional Day Tour (Not Included) - Blue Mountains Deluxe Day Tour - Full Day
The Blue Mountains Deluxe Day is a real journey into the heart of a unique World Heritage Region. From temperate rainforests to towering sandstone escarpments, you'll see and experience it all. Let the landscape work its wonders and become part of you for a lifetime.
Upon departing from the city, you will travel directly to the Blue Mountains and your first stop of the day is at Calmsley Hill Farm a working farm also home to Kangaroo, Emu, Wombat and Koala. Enjoy morning tea and time to wander at leisure.
From Calmsley Hill you will continue to ascend the Blue Mountains via the highway. Visit one of a range of stunning outlooks of the Jamison Valley seeing beautiful vistas. Where possible this will be away from the crowds of tours that visit the mountains each day with other operators, thus you will have the opportunity to enjoy a stress and hurry free environment taking in the views and information imparted by your guide.
Continuing on you will arrive at Eaglehawk Lookout, a remote lookout points away from the crowds for views of the famous 3 Sisters. Whilst the Blue Mountains features so much more than this natural attraction you can't help but admire the unquestionable beauty of this amazing rock formation. The character of the Three Sisters changes throughout the day and throughout the seasons as the sunlight brings out the magnificent colors. Here your guide will discuss the legends behind this famous rock formation and time available for you to take some great photos.
Next you will be taken around the mountain towards the village of Blackheath and our lunch venue the Boiler House Cafe. Here in this relaxed venue with stunning views, you can enjoy a 2-course lunch with tea or coffee. All diets are catered for (excluding Kosher Meals). Please note that beverages can be purchased at your own expense from the Bar.
The afternoon is spent visiting a selection of lookouts. Once you clap your eyes on the view from Govetts Leap you'll know why it's one of the most famous lookouts in Australia. The magnificent waterfall drops a whopping 180m to the base of the cliff. If you're not mesmerized by the dancing waves of water spray, you'll be transfixed by the sweeping views down the valley to the Grose Wilderness.
Then take a brief stop to enjoy a glass of sparkling wine or orange juice at the delightful Mt Tomah Botanic Gardens, where you can enjoy the sweeping views across to Sydney before traveling down the Bells Line of Road to arrive back at your hotel approximately 4:30pm.
Operates
Daily.
Need to Know
This is a specialized small group tour with a maximum group size of 17 passengers.
Minimum of 2 guests required for tour departure.
Times
Pick-up from Sydney CBD hotel between: 7:00am – 7:30am.
Drop-off at Sydney CBD hotel between: 4:30pm – 5:00pm.
 
Inclusions
– Professional Guide
– Hotel pickup & drop off from Sydney CBD
– Small group touring
– Morning tea
– National Park Fees
– 2-Course Lunch (Beverages with meals are not included)
– Glass of Sparkling Wine
– Mt Tomah visit
Upgrades
Private Touring
Optional Day Tour (Not Included) - Hunter Valley Wine Tour - Full Day
Explore the fertile Hunter Valley and taste delicious food and awardwinning wines. Enjoy private vineyard inspections and learn of the winemaking process. Spend time strolling in the vineyards, purchase some wine or simply enjoy the beautiful Australian countryside.
Admire the magnificent views of the Hawkesbury River on your drive through the Central Coast. The Hunter Valley is home to Australia's oldest wine-producing region and owes its fame to world-class viticulturists and fertile soils.
Enjoy a private wine tasting experience at Leogate Estate Wines, which produces trophy-winning wines such as Chardonnay, Semillon and Shiraz, and learn of local wine-making techniques. Visit Hunter Valley Resort, where you can walk among the vines and learn about the wine-making process and the key role the resort plays in this region.
Enjoy lunch made with local produce, while you sample some of the area's best wines. You'll also have the chance to purchase a beer tasting paddle from the on-site brewery. The McGuigan family are respected pioneers of the industry and at their cellar door you'll be greeted warmly and welcomed to a tasting of their fine wines.
Finish the day at Roche Estate, where you'll have free time to explore the shops offering Australian cheeses at the Smelly Cheese Shop and gourmet delights plus coffee, gelato, craft beer and cellar doors (own expense).
Operates
Daily
Times
Sydney CBD hotel Pick-up 7:45 – 8:00am & Return 6:30pm (approximate times)
 
Inclusions
– 3 Wine Tastings
– Lunch
– Experienced Driver Guide
– Comprehensive commentary
– Travel in an air-conditioned coach
Upgrades
Upgrade to a Small Group Luxury Tour
Optional Lunch Cruise (Not Included) - Sydney Cruise Like a Local (4 Hours)
Treat yourself to one of Sydney Harbours most sensational lunch cruises. This small group cruise offers the experienced traveler a personalized service like no other. You'll feel as if you are spending the day aboard your historically savvy local mate's yacht while he shows you around his favorite spots.
Offering a unique and exclusive cruise experience, your personal host will cruise back in time sharing the rich history of Sydney Harbour and its foreshore as you take in Sydney's most famous sites, including the Sydney Opera House and Sydney Harbour Bridge. Enjoy the company of a small group and immerse yourself in all the activities that a private vessel offers, including swimming, fishing and kayaking – or sit back and relax on the tempting sunbed,
Operates
7 Days a week (October – March); Tuesday, Thursday, Friday & Sunday (April – September). Does not operate on Easter holidays (Good Friday, Easter Sunday & Easter Monday), ANZAC Day (April 25), June 8, October 5, Christmas Day (December 25), Boxing Day (December 26), December 28, New Year's Day (January 1) and Australia Day (January 26).
Need to Know
Please make your own way to departure – Commissioners Steps, Circular Quay, located in front of the Museum if Contemporary Art.
Times
Cruise departs at 12:30pm and returns at 4:30pm, lasting approximately 4 hours.
Inclusions
3 course bbq lunch with beverages
4 hour cruise
Captain and crew entertaining passengers
On-board activities, swimming, fishing and kayaking
Optional Day Tour (Not Included) - Wildlife in the Wild - Full Day
This is an exceptional opportunity to venture into the Australian Bush in search of Australia's iconic native animals. We like to call them Australia's Big 5! – Koalas, Kangaroos, Platypus, Emus & Wombats – all classic Australian natives that you won't find in any other place on earth.
This is an in-the-wild experience, traveling to private farmland and swathes of quintessential, pristine Australian Bushland in the Southern Highlands, just 90 minutes south of Sydney.
Your small group, maximum 10, will travel in a luxury 4WD equipped for great wildlife-viewing with a specialist Naturalist Guide to interpret all. Walk through towering forests of Grey Gums in search of koalas, look for platypus in the rivers, and drive through woodlands & pastures as mobs of kangaroos and emus feed.
After dinner, a night-spotting foray lets you see nocturnal wombats, gliders and possums. We follow Nature's guidelines, seeking out the animals when they're most active, with a noon to evening tour that includes a light lunch (winter months) or afternoon tea (summer months) and hearty country-style dinner in one of Australia's oldest country inns.
This is an exceptional way to see Australian wildlife in its natural environment.
Operates
Monday, Wednesday, Thursday, Saturday or by request.
Need to Know
Tour is not suitable for children under 6 years or travelers with mobility issues or walking aids. Maximum group size 10 travelers.
 
Times
– Summer (Oct – March) Tours with Afternoon Tea & Dinner – Depart between 1:00pm-2:00pm & Return at 10:30pm.
– Winter (Apr – Sept) Tours with Lunch & Dinner – Departs between 11:30am-12:00pm & Return at 10:00pm.
Inclusions
– Friendly & knowledgeable guides that really care about what they do. Authentic experiences off the busy tourist trails giving you the best opportunities for those all-important holiday snaps.
– Small group sizes giving the flexibility to help make the most of your day.
– Luxury transport to ensure your trip is comfortable from beginning to end.
– Pick up and drop off from many city hotels or convenient central locations.
– No zoos or nature parks – just thousands of acres of pristine bush and farmland.
– Afternoon and evening tour to put you in the right place at the right time to see the wildlife.
– Includes lunch or afternoon tea plus a hearty country-style dinner at one of Australia's oldest pubs.
– Great for small groups, with safari-style driving, easy bush walks, animals, adventure and outdoor fun.
Upgrades
Upgrade to a Private Tour
Insider's Tip: Australian Opals
Altmann & Cherny is a family owned jewellery business in Sydney with an international reputation for excellence in opals and is one of the World's foremost Australian Opal authorities.
Australia is known as the country of origin for this splendid stone with 95% of the world's precious gem opal found exclusively in Australia. The Australian opal displays all the colors of the rainbow; holding a spectrum of colors found in nature. It is these contrasts that make opals a truly fascinating and unique gemstone, with no two opals appearing exactly the same. In the Middle Ages the Romans considered opal a stone that could provide great luck, as it was believed to possess all the virtues of Emeralds, Sapphires and Rubies.
Established in 1948 in hopes of sharing this unique gemstone with the world, they have built a reputation of providing the highest level of quality, service and value for three generations. Their mantra has always been and will continue to be – "Excellence in service, quality and value." So come share in this unique experience to learn more about Australian Opals at Altmann & Cherny!
Altman + Cherny
18 Pitt St., Sydney, NSW 2000 / Ph: 61 (02) 9251 9477
Hours: Monday – Friday: 9:30am – 5:30pm / Saturday & Sunday 10:00am – 4:00pm
Day 9 - Shuttle Transfer, Sydney Accommodation to Airport
Travel by shuttle from your vacation accommodation in Sydney, Australia, to the Airport.
Day 9 - International Flight, Sydney to Los Angeles (Check quote for inclusion)
Depart Sydney from the International Airport and fly to Los Angeles. Note: You will be traveling back across the International Date line so you will gain a day. You actually arrive in the USA on the same day you leave Australia.
Detailed Pricing
Approximate Pricing
Double Occupancy
Sole Occupancy
Permitted USA Departure Dates & Fare Rules
Land Content Only
$1,484
$2,618
International return flights from the USA are not included. Please see detailed itinerary (above) for more information on inclusions. Itinerary can commence any day (subject to availability).
Special (Economy Class)
$2,209
$3,344
Feb 10 2020 - Nov 11 2020
USA Departures: 10FEB-28JUN, 24JUL-11NOV. Expires 25 FEB 2020
International Return Flights from the USA (Los Angeles) are included. Non-Refundable, Non-Changeable. Other Dates may also apply. For details phone Toll-Free: (888)359 2877
Basic (Economy Class)
$3,419
$4,554
Basic: 24JUL-21SEP 2019 and 1MAY-8JUN 2020. International Return Flights from the USA (Los Angeles) are included. Non-Refundable. Changeable (Fees Apply). Subject to Availability.
Shoulder (Economy Class)
$3,626
$4,761
Shoulder: 9JUN-23JUL 2019, 22SEP-8DEC 2019 and 1FEB-30APR 2020. International Return Flights from the USA (Los Angeles) are included. Non-Refundable. Changeable (Fees Apply). Subject to Availability.
Peak (Economy Class)
$4,143
$5,278
Peak: 9DEC 2019 - 31JAN 2020. International Return Flights from the USA (Los Angeles) are included. Non-Refundable. Changeable (Fees Apply. Subject to Availability.
Premium (Economy Class)
$6,396
$7,531
Premium Economy Class International Return Flights from the USA (Los Angeles) are included. Change and Cancellation Fees Apply. Subject to Availability.
Business Class
$8,004
$9,139
Business Class International Return Flights from the USA (Los Angeles) are included. Subject to Availability.
First Class
$19,206
$20,341
First Class International Return Flights from the USA (Los Angeles) are included. Subject to Availability.
a) All prices are USD$/person (including all Taxes). Subject to availability and seasonality. Other Conditions Apply (see Terms and Conditions).
b) Land Content Only represents the pricing for the full itinerary as detailed, except the International Flights from the USA (and return) are NOT included.
c) An Infant (Lapchild) must be less than 2 years old on the date of departure. Infant must travel with at least one adult. An infant with a seat pays the price of a Child.
d) A Child must be aged between 2-11 years on the date of departure. Child must travel with at least one adult.